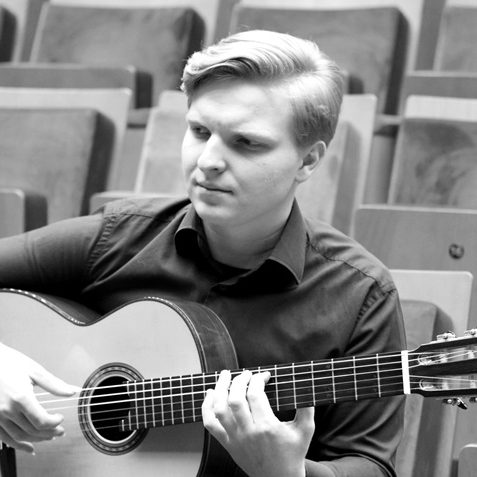 Mateusz Kowalski is the winner of the 2nd EuroStrings Guitar Competition in 2019. He had received a cash prize of 8000 Euros, and had a chance to do a tour in the US, throughout Europe and China!
Mateusz Kowalski is a classical guitarist born in 1995 in Koszalin, Poland. He has recently received international acclaim after winning several international competitions, including: 1st prize in the International Guitar Festival RUST, Austria (2018), 1st prize in the Joaquin Rodrigo International Guitar Competition in Olsztyn, Poland (2018) 1st prize in the XIX International Guitar Competition in Krynica-Zdrój, Poland (2018), 1st prize + audience prize in the XVIII International Guitar Competition in Anthony, Paris, France (2017).
Mateusz started playing the guitar at the age of 7 in Koszalin School of Music under Dariusz Schmidt. In 2014 he began his studies at the Fryderyk Chopin University of Music. He finished his bachelor exam with the highest grade possible. At this time, he attends the second year of a master's degree course at the FCUM in the class of Ryszard Bałauszko. Mateusz has given concerts in Spain, France, Belgium, Slovakia, Germany, Austria, and many others. Furthermore, he recorded his debut CD in 2018 with the Polish label CDaccord, distributed by NAXOS. He is a member of the EuroStrings Artist programme for the 2018/19 season. He is also a scholarship winner of the polish KFnRD and Ministry of Culture and National Heritage programme "Young Poland". He took part in numerous guitar courses and masterclasses, including lessons with Sergio Assad, Alvaro Pierri, Zoran Dukic.
Check out Mateusz's official website, follow him on his Facebook page and Instagram as he shares his passion for music all over the world.
Click here if you want to learn more about EuroStrings Guitar Competition.