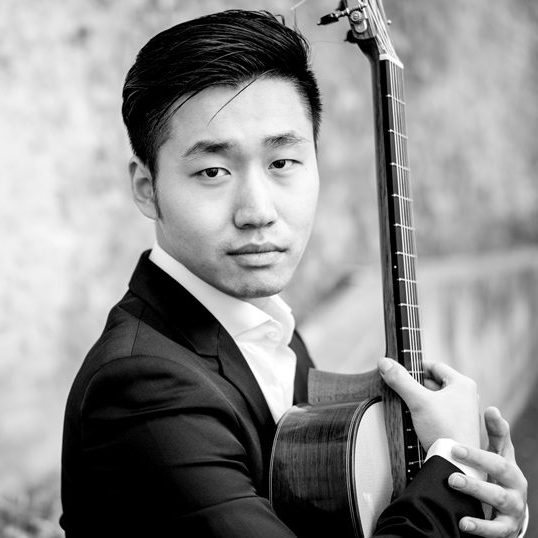 You Wu was born in 1993 in Lishu, China, where he began to study guitar under his father's tutelage at the age of 8.  Later he studied guitar with prof. Danny Yeh in the Middle Music School affiliated to Shanghai Conservatory of Music. In the year of 2012 he graduated from Shanghai Conservatory of Music, and at the same time, he was accepted by the guitar program in University of Music and Performing Arts Vienna where he studies with Prof. Alvaro Pierri until now.
You Wu has won numerous guitar competitions with his extraordinary music talent and excellent technique. Japanese guitarist Shinichi Fukuda considers You Wu as the Lang Lang in the guitar world.
You Wu had concerts throughout Asia and Europe, he was invited to give solo concerts in Berlin, Vienna, Rome, Balaton, Mikulov, Bratislava, Bangkok, Thailand Tokyo, and numerous other places. In April 2018, he made his debut in Musikverein in Vienna. Besides solo concerts, he also performs chamber music with renowned string quartets and orchestras. You Wu has had a scholarship from Switzerland Thyll Durr Foundation since 2015.
Prizes:
2006 Liaoning Guitar National Guitar Competition – First prize
2006 Singapore International Guitar Competition – Second prize
2008 "Best Student" in Shonai International Guitar Festival Japan
2009 Shanghai National Guitar Competition – First prize
2009 Kyushu International Guitar Competition – First prize
2009 Thailand International Guitar Competition –  First prize
2012 Shenyang National Guitar Competition – First Prize
2011 Tianjin National Guitar Competition – First prize
2013 Kutna Hora International Biennial Guitar Competition – Second prize
2013 'Ciudad de Coria' International Guitar Competition – Third prize
2013 Tokyo International Guitar Competition – Third prize (No second prize)
2014 Changsha International Guitar Competition – Second Prize
2014 Shenyang International Guitar Competition – First Prize
2017 LiGita International Guitar Competition – First Prize
2017 Forum Gitarre Wien – First Prize
2018 Zagreb Guitar Competition Category VI – Second Prize
2018 Ciudad de Coria International Guitar Competition – Second Prize
2018 Casino Austria Rising Star Award – Second Prize