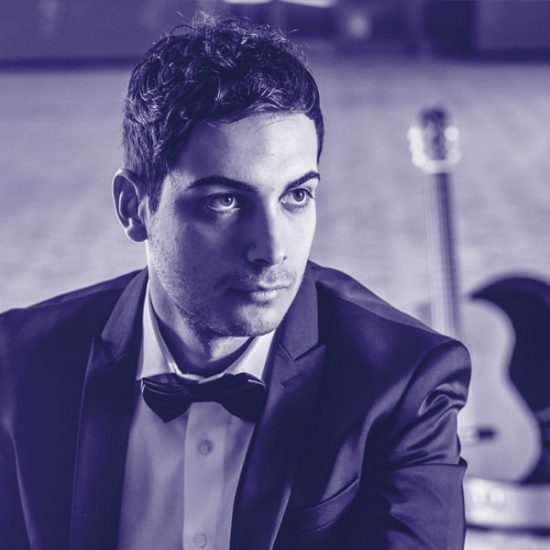 Italy
Born in 1987, Nicola Montella has been studying classical guitar since he was eight, under Master G. M. Fontanella's guidance.
In 2005 he obtained his first-class school-leaving certificate. During the academic year 2008/2009, he obtained his first-class Second Level Experimental Academic Degree at the "Gesualdo da Venosa" Conservatory in Potenza – Italy, studying Musical Disciplines – Specialized Biennium for the Teachers' Education (Guitar) and at the "Domenico Cimarosa" Conservatory in Avellino – Italy – under Master  Lucio Matarazzo's guidance, he obtained in 2011 his first-class Specialist Degree in Musical Explanatory and Compositional Disciplines for the Guitar, Nineteenth Century Concert Area.
His concert activity has seen him playing an important role in famous musical events in Italy and abroad. Among the most recent are the following: concerts at the Girona International Classic Guitar Festival, at the Aranda de Duero International Classic Guitar Festival (Spain 2013-2015) and S. Giacomo Guitar Festival (Bologna-Italy 2015), concerts in China in April 2015, held at some of the most prestigious Beijing's theatre halls (Centennial Hua, Beijing University, Sunrise Concert Hall, BUAA, The Club House – Chateau Regalia, The Club House – Shadow Creek) and his opening concerts: at the "Città di Celano" Guitar Festival (March 2014) and at the Fiuggi Guitar Festival (July 2013 and 2012).
Over the years, he has been awarded at several important national and international guitar festivals and contests.
In 2011 he was awarded the Avellino prize in Music, as Master Aniello Desiderio's best student for the interpretation of guitar works and guitar techniques.
He is a D'Addario artist.
In 2015, the Scientific Committee of the International Guitar Congress gathered in Alessandria – Italy, after a careful evaluation of his professional and artistic activity, awarded him with the prestigious The Golden Guitar Award for the best up-and-coming guitarist.