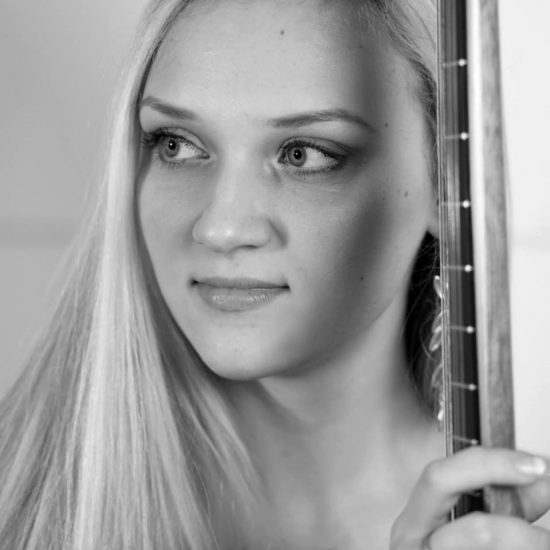 Julia Trintschuk began learning the guitar at the age of 4 with her father Anatoli Trintschuk. At the early age of 6, she became a student of Prof. Mario Sicca in Stuttgart. Later she studied with Martin Wiedmann, Prof. Johannes Monno, Ivo and Sofia Kaltchev, and Mateus dela Fonte.
During this time she received many prizes and participated in many competitions (e.g. Jugend musiziert, International Llobet Competition Barcelona, Forum Gitarre Wien, Deutscher Musikwettbewerb, International Bach Competition Reisbach). In the last year, she won the Grand Prix and the first prizes at the International Bratislava Guitar Youth Competition, the Hannabach-Competition, the Heinrich Albert Guitar Competition, Montenegro International Guitar Competition, as well as the special prize for the best interpretation of romantic music at the Forum Gitarre Wien.
She received masterclasses with Pepe Romero, Scott Tennant, William Kanengiser, Matthew Greif, John Dearman, Johannes Tonio Kreusch, Dimitri Illarionov, Celino Romero, Lito Romero, Judicael Perroy, Gerald Garcia, Dale Kavanagh, Roland Dyens and other important personalities of the international classical guitar community.
Julia launched her performing career at the age of 16 with the well-known "Concierto de Aranjuez" for guitar and orchestra by Joaquin Rodrigo and has played as a soloist and chamber musician in places all over the world such as Mexico, Russia, Poland, Slovakia, Italy, Spain, Switzerland, Austria, Germany and the Netherlands. In May 2017 her Debut-CD was published. Since 2017 she has been a "Savarez Artist" and uses the strings "Cantiga Creation 510 MJ".