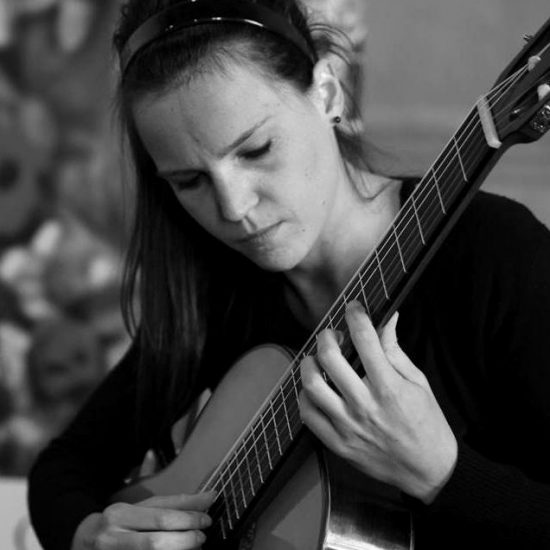 Giulia Ballaré is considered to be one of the most promising soloists of her generation. She has won more than twenty-five prizes in international competitions among them, first prize: Ciudad de Coria (Spain, 2017), Omis Guitar Fest (Croatia, 2017), Forum Gitarre Wien (Austria, 2016), Villa de Aranda (Spain, 2015), Comarca del Contado (Spain, 2014), Mottola (Italy, 2013); third prize: M. Pittaluga International Competition (Alessandria, 2017), A. Frauchi International Competition (Moscow, 2017), J. Tomas-Petrer (Spain, 2017), Sevilla (Spain, 2017), Emilio Pujol Concorso Internazionale (Italy, 2017).
In 2013 she released her first album with the label dotGuitar titled "Lirically Spain".  Since 2018 she has been a D'Addario Artist. She has been invited to perform in prestigious venues, such as the National Forum of Music in Wroclaw, Concert Hall of Gnessis in Moscow, Gosser Ehrbar Saal in Wien, the Aula Magna of University "La Sapienza" in Rome, the Hall of Mirrors in Bratislava, Kurfurstliches Schloss of Koblenz and many others. She had performed as soloist with Alessandria's Orchestra (Italy) and Musica Viva's Orchestra of Moscow (Russia).
Her recitals have been acclaimed from audiences and press: "… the Ballarè is getting noticed for a charge and an impact always classy and highly emotional expressive power, to establish a strong bond with the public … " La Repubblica. Giulia Ballaré was born in 1987 in Novara, Italy. She graduated with the maximum from the conservatory in Novara with M° Guido Fichtner. At present, she is attending a master's degree course with M° Paolo Pegoraro at Kunst Universitaet Graz.