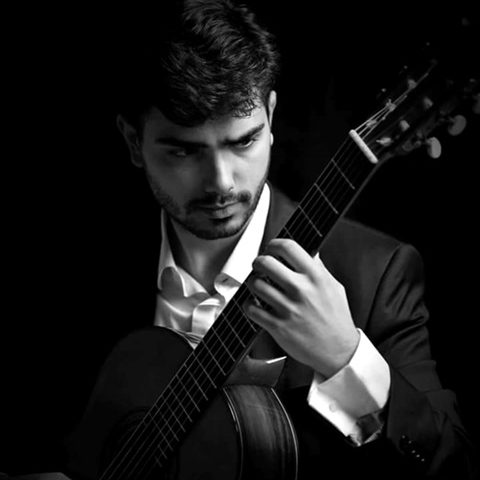 Born in Corinth in 1995 Dimitris Soukaras is a Greek classical Guitarist, Chamber musician and composer currently living in London. He is a masters student at the prestigious Royal Academy of Music in the classes of M.Lewin, S.Goss, D.Russell and F.Zanon. His studies are kindly supported by the Academy of Athens, Royal Academy of Music as well as the Athena Scholarship, kindly provided by Miss. Anna Weeks.
He has received distinctions in 12 international/national competitions. Among others, he won the 1st Prize at Mottola (Italy) International Guitar Competition and Festival (2018),  1st Prize at Philon Competition in Athens (2014), 1st Prize at Arion International Guitar Festival (2014), 2nd Prize at Thessaloniki International Guitar Competition (2015), 2nd Prize at Patra's International Guitar Competition (2015), 3rd Prize at Dimitris Fampas International GuitarCompetition (2015) etc. Also, he is the winner of the Academy of Athens Music Award/Scholarship (2018)
As part of the prize of Mottola Guitar Competition he is included in the Young Stars project, which gives him the opportunity of  a concert tour at 2019 in 14 European Guitar Festivals participating in the EuroStrings platform. Also, he will record his first CD "From Down to Dask" which will be published by the "dotGuitar Weblabel". He is one of the Winners of the "Young Artist Platform" 2018 auditions organized by the International Guitar Foundation. He will perform in prestigious UK festivals and concert halls such as London Guitar Festival and Competiton at Kings Place, for the Bath Guitar Festival, and the North East Guitar Festival.
As a soloist he has performed with the Ionio Symphony Orchestra as well as the Athens Mandolin Orchestra "N. Lavdas". He has been invited to perform in many Festivals in Greece such as the 25th Guitar Festival in Patras, All that Guitar Festival in Loutraki, the 4th Summer Arrion Academy in Lesvos etc. He recently played a solo recital for the National Library – Lilian Voudouri at the Megaron Athens Concert Hall. He has also recorded for the Hellenic Broadcasting Corporation of Corfu as well as  "University of Patras Radio".
Dimitris completed his Bachelor of Music Degree with the Highest Marks and Honors at the Ionian University Department of Music Studies under the guidance of his teachers C. Cotsiolis and K. Vougiouka. He was privileged to be the first student of the University who completed his studies in three years instead of five (which is the standard attendance period in the Music Department).
He received his first guitar lessons from his father, Nikos Soukaras, at the age of 11. In 2011 he continued his studies along with the guitar soloist Yorgos Bechlivanoglou who prepared him for the Guitar Degree and Guitar Diploma both achieved with the highest marks and honours. At 2016 he attended Classes with the guitar soloist Antonis Hatzinikolaou and with the piano soloist Anastasios Pappas.
Also, he has attended Master Classes with: L.Brouwer, D.Russell, O. Ghiglia, H. Käppel, R. Dyens, F.Zanon, T. Hoppstock, M. Delpriora, R. Gallen, M. Dylla, M. Tamayo, A. Desiderio, S. Prieto – A.Mouzourakis (Duo Melis), E. Assimakopoulos, M. Socias, L.Eisenhardt, K. Tosidis etc.
Dimitris is also interested in music composition, especially composing music for the theatre. Since 2016 he has been cooperating with the Theatrical Organization of Hiliomodi at Corinth (Greece) and he has composed music for three theatrical plays: Molière's "The Miser", T. Williams' "The Glass Menagerie" and more recently Euripidis Ancient Tragedy "Trojan Women".