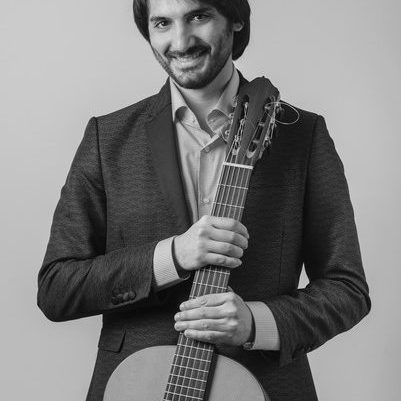 Carlo Curatolo began his studies with Pino Forresu, Francesco Taranto and Stefano Palamidessi. In 2010, he graduated from the Conservatory of Taranto and, in 2016, he gained a Masters in Physics at the Sapienza University of Rome. He continued his musical studies at the Segovia Guitar Academy in Pordenone with Paolo Pegoraro and Adriano del Sal, and at the Accademia Musicale Chigiana in Siena with Oscar Ghiglia. He is currently enrolled on a postgraduate course in music performance and interpretation at the Conservatorio di Musica Arrigo Boito in Parma. He has also participated in masterclasses with Carlo Domeniconi, Judicaël Perroy, Jorge Cardoso, Leo Brouwer and Carlo Marchione.
Carlo has been awarded prizes in more than 30 international competitions in Italy and abroad, such as International Guitar Competition J.K. Mertz in Bratislava, Alirio Diaz International Guitar Competition in Rust, Austria, the Concorso Internazionale di Chitarra Classica 'Enrico Mercatali' in Gorizia, Italy, Incontri Chitarristici di Gargnano, Italy, and Ruggero Chiesa International Guitar Competition in Camogli, Italy. In 2019, he was awarded First Prize at Twents International Guitar Competition in the Netherlands, the International Guitar Competition of Mottola in Italy and at the Seville International Guitar Competition in Spain.
Since 2006 he has been performing both as a soloist and in ensemble in Italy, Austria, Portugal, Slovakia and Hungary. He combines his performing career with busy teaching practice in Rome.