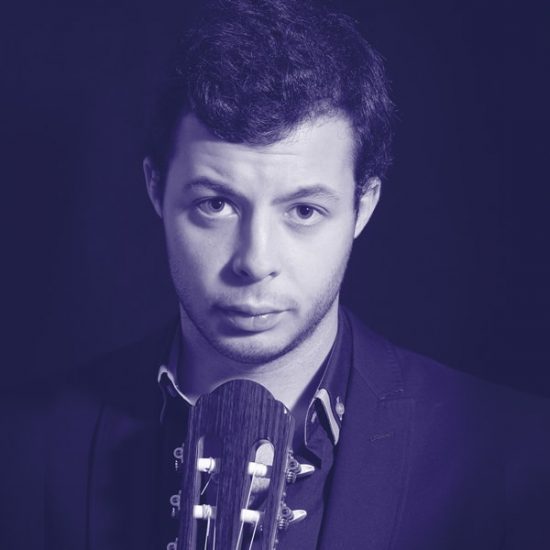 France
Always looking for new repertoire, Antoine Moriniere is invited to play solo concerts, chamber music and concertos all around the world. He performed in many countries like France, Canada (Toronto), Greece (Athens), Cyprus (Nicosia), Belgium, Poland (Olsztyn, Warsaw), Portugal (Casa de Musica de Porto, Barcelos), Romania (Targu Mures, Cluj Napoca), Spain (Madrid, Petrer, Coria, Cheste, Valencia, St Sebastian), Germany (Hamburg, Weimar, Berlin), Austria (Wien), Czech Republic (Kutna Hora) and Danemark (Copenhagen).
Interested in contemporary music, he collaborates with a Japanese composer Rikako Watanabe (composition teacher at in the Conservatoire National Supérieur de Musique et de Danse de Paris) on the piece "Suite pour guitare" which is also dedicated to him. He premiered this piece during his tour in Spain in November 2012. He also plays composition for guitar and clarinet named "Obscurs", dedicated to him by an excellent French clarinetist, Raphaël Sévère. During 2017 he will also perform another composition with piano, clarinet and 2 guitars, a piece composed by the pianist Jean Frederic Neuburger with Raphaël Sévère and Thibaud Garcia.
Recently, as the winner of Sevilla and Wien guitar competitions, Antoine is on an international tour with more than 30 concerts all around the world ( Spain, Austria, Thaïland, Germany, Canada, Greece, Austria, Montenegro, England, Slovakia, Danemark…). He also recorded a CD in June 2016 under the label "Contrastes Records" (Naxos Distribution).
Antoine is also involved in chamber music projects as a guitar/clarinet duo with Raphael Sévère and as a guitar duo with Thibaut Garcia (France, Romania…). In 2017 he started a new collaboration with the contemporary dancer named Louis Nam Le Van Ho.
In 2016, Antoine obtained his Master's degree at the Conservatoire National Supérieur de Musique et de Danse de Paris in Olivier Chassain's class. He started playing the guitar with Jean Luc Rocchietti, then he continued with Olivier Chassain at the Conservatory of Bordeaux where he graduated with the highest jury distinction. He also received professional guidance from Jeremy Jouve for 2 years. Antoine is now teaching at the St Maur des Fossés Regional Conservatory in France.