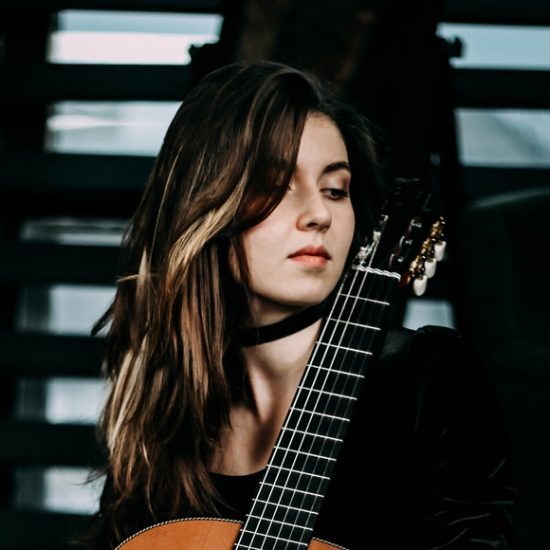 Valeria Galimova (International Guitar Festival Rust)
Valeria Galimova is one of the most prominent Russian young classical guitarists, winner of several prestigious competitions, who passionate to continuously master her art, and curious to enlarge her repertoire through collaborations with other instruments.
By the final year of the study at Gnesin Academy in Moscow (class of Artyom Dervoed), Valeriya Galimova has become the President of Russia award winner, the Delphic games Gold medal winner as well as won 10 First-prizes at Russian & international competitions. She performed in "Leggiero" orchestra in the production of the tango-opera, and presented in 2018 the "The Horovod" suite world premiere for guitar and string quartet. In cooperation with the main music store in Russia she released a classical guitar video lessons for beginners.
Valeriya Galimova began to study classical guitar at the age of 8 in Kamensk-Uralsky city (Sverdlovsk region, Russia) with Dmitry Milovanov. During her first years at children's music school she already has being receiving the city Mayor scholarship for the 5 years in row. At the age of 14 Valeria was invited as an artist and a jury member of the children's international festival and competition in Puebla (Mexico). Three years later she moved to Moscow to study with Roman Zorkin and Anastasia Bardina at Gnesin College. Valeria continued to improve her art at Gnesin Academy with Artyom Dervoed at the same time she attended master-classes with Zoran Dukić, Ricardo Gallen, Petrit Çeku, Roberto Aussel, Rafael Aguirre and Carlo Marchione.
Since 2015 Valeria Galimova is involved in the Organizing Committee of Guitar Virtuosi Moscow International Festival, one of the world's largest classical guitar contests at Tchaikovsky Concert Hall of Moscow Philharmonic Society, as well as she was a part of Alexander Frauchi's Competition and Festival organizing team in Moscow, Russia.