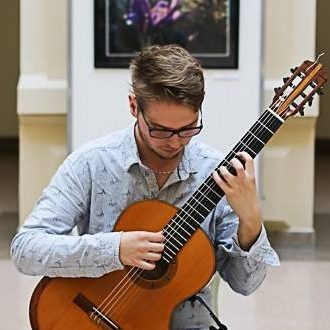 Tamás Kőrös (Tampere Guitar Festival)
Tamás Kőrös was born in 1996 in Hungary. He started to learn classical guitar when he was 15 years old. When he was 18, he decided, that the rest of his life will be about the classical guitar. He studied guitar with Dr. Andrea Bozóki in the Szeged Music Secondary School. After that, in the year of 2018, he graduated from the University of Szeged Music faculty in the class of Dr. Andrea Bozóki and András Csáki. Now he is working on his Master's Degree also in Szeged with András Csáki, Péter Girán, and with his well-known chamber music teachers, Dr. László Stachó and Balázs Arnóth.
He loves playing pieces from every style of classical music, but he thinks, his main "task" is to play contemporary music, and to make the audience familiar with it. Also, the chamber music is really important for him, he's a member of the Szeged Guitar Orchestra, in the previous years, he had opportunities to play with really great soloists, just like William Kanengiser (US), András Csáki (HU), and Péter Girán (HU). Now he is playing on a 2016 Viktor Fogas lattice bracing guitar. In the previous years, he had some results from national and international competitions, just like from Temesvár, Alma Cornea Ionescu Euroregional Guitar competition (1st place), IV Topola International Guitar competition (2nd place), and I. Szeged National Guitar competition (2nd. place). He also had masterclasses from really great and well-known classical guitarists, like William Kanengiser (US), Tilman Hoppstock (DE), Lazhar Cherouana (FR), Marek Nosal (PL), Eros Roselli (IT), Arturo Tallini (IT), Antoine Moriniere (FR), Raphaelle Feuillatre (FR), Dávid Pavlovits (HU), Ede Roth (HU), and Pál Paulikovics (HU).