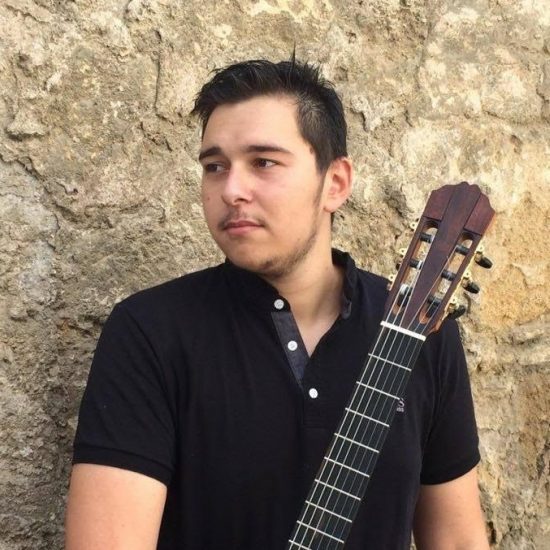 Sotiris Athanasiou (Montenegro International Guitar Competition)
Sotiris Athanasiou, currently a student at the Superior Conservatory of Paris, is a musician born in Thessaloniki, Greece in 1996. He started the classical guitar at 3 years old, with his father as his first tutor and his guide throughout his journey until recently. He would then go on to study in the class of Fotis Baxes in the Conservatory of Macedonia until the age of 16 when he obtained his final guitar Diploma with the 1st prize and maximal grade. During that time he also participated in competitions of all age categories at either national or international level winning multiple 1st places and distinctions. Most notably he received 2nd place in the National competition for young artists in 2013 at Thessaloniki.
From a young age, he has given many concerts as a soloist and also in chamber music. He has performed in nations such as Greece, Spain, and France. As a soloist, he has collaborated with the Athens national symphonic youth orchestra ASON and the National Symphonic Orchestra in Thessaloniki. In 2018, he was also invited to record the concerto of Aranjuez with the National radiophonic orchestra. This was broadcast from Athens on the national Greek television channel ERT. More recently he won the 1st prize in 2017 Leopold Bellan in Paris France and Veria international guitar festival in Greece (2018).
Academically, he has also strived to maintain an outstanding level of performance. He started at the Conservatory of Bordeaux where, in 2016, he received the diploma of professional orientation in music with the highest mark and felicitations from the jury. Subsequently, he studied at the superior conservatory of Seville Manuel Castillo in the class of Fransisco Bernier for one year. Presently, he is studying at the Superior Conservatory of Paris, in the class of Olivier Chassain and Gianni Caserotto, where he won the first of only two nominations to proceed and, thus, was offered a full scholarship. A significant portion of his artistic development has been the classes with excellent musicians like Oscar Ghighlia, Frederic Zygante, Ricardo Gallen, Hubert Kaeppel, John McClellan, Margarita Escarpa, Judicael Perroy, and others. In the meantime, he is employed as a guitar professor at the General conservatory of Conflans Sainte Honorine in Paris, France.