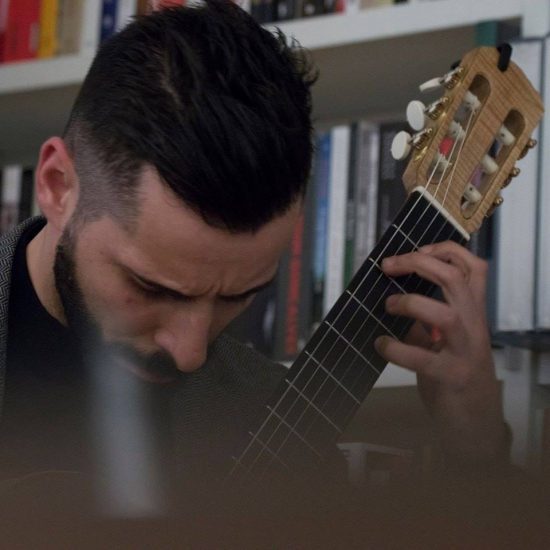 Ricardo Brito (Guimarães International Guitar Festival)
Ricardo Brito graduated from the School of Applied Arts (Esart) under the direction of Miguel Carvalhinho. He is currently a private student of Pedro Rodrigues and is attending Master in Music Education at Esart. He started his musical studies by the hands of Gil Ferreira and Otília Sá. He studied at the Music Conservatory of Vila Nova de Gaia where he studied Musical Analysis, Composition Techniques, Musical Education and Choir.
He participated in Masterclasses with: Judicael Perroy, Jonhannes Moller, Jose Manuel Dapena, Robert Trent, Costas Cotsiolis, Zoran Dukic, Carlo Marchione, Aniello Desiderio, Pedro Rodrigues, André Madeira, Mak Grgic, Alfonso Aguirre Dergal, Antonio Fruscella, Fabiano Borges, Hubert Kappel, Ricardo Barcelo, Nuno Cachada, Dejan Ivanovic, Nicola Montella, Dymtro Omelchak, Antero Pellikka and Miguel Carvalhinho.
He premiered the works: Pluja Blava composed for himself in 2015 by composer and guitarist Sergi Boal (Spain) in the Bonjoia Series on November 26, 2015. He performed Seventenn Heart Pieces by Maestro and composer Bruno Ricardo Nogueira (Portugal) at Associação Cultural a house of Beira Alta on April 29, 2018.
In recent years he has performed as a soloist in various venues ranging from monuments, churches and showrooms. His participation in the opening of the III International Guitar Festival in Guimarães, in the European Heritage Days 2014, recital in the Cloister of the Serra Pilar House of Arts, Porto D Artes, Flaneur Bookstore, Port Wine Museum, Taipas and Massarelos Church, Immaculate Heart of Mary Chapel, Port Commercial Athenaeum, Bonjóia Stations, Casa Branca de Gramido, House the Auditorium of the Biological Park of Gaia and also celebratory ephemeris such as: The National Day of Historic Centers 2014,2015 and 2016. Also in his Musical Career works simultaneously in studio having already edited a single with the Support of the Brotherhood of St. Joseph of the Taipas.
Ricardo Brito is the EuroStrings Scholarship Winner for the Guimarães International Guitar Festival.