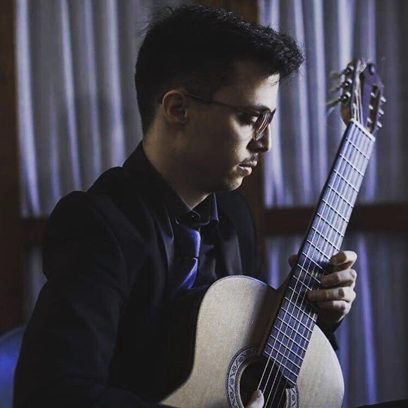 Nino D'Amico (Harmonia Cordis International Guitar Festival)
Nino D'Amico, began studying classical guitar at the age of 12 with his father. In 2013 he enrolled to the San Pietro A Majella Conservatory in Naples (2013), where he became part of the class of Maestro Vincenzo Amabile. In 2019 he obtained the First Level Academic Diploma with honors. He attended the course of guitar specialization, under the guidance of Maestro Aniello Desiderio, at the Stefano Strata Di Pisa headquarters where he won the "Roberto Borghini" scholarship as the best student.
Nino had the opportunity to attend various masterclasses held by renowned masters, such as Marco Caiazza, Giulio Tampalini, Frédéric Zigante, Aniello Desiderio, Andrea De Vitis, Antonio Rugolo. For several years he attended the guitar seminars of the Castellaneta Civic School (TA) with Maestro Frédéric Zigante and Antonio Rugolo. He won many guitar competitions including the 2nd Prize at the international competition of Acerra Guitar Meetings in 2018; 1st Prize at the Napoli Nova national competition, 2014; 1st Prize at the XXI National Competition "Giulio Rospigliosi" of Lamporecchio; 1st Prize at the 10th national competition "La Chitarra Volante" (RM); 1st prize at the VI international festival of the Adriatic; 1st Prize for the category with no age limit at the international competition for musical performance in the city of Baronissi (Sa); holder of the Special Award as the best performer of a piece by Paganini in the competition without age limits and among all the participants at the Paganini Guitar Festival Di Parma, and many other.
During his artistic maturity, he reveals a great musical passion for Agustín Pío Barrios Mangoré. He has played for some of the most prestigious national and international musical associations.