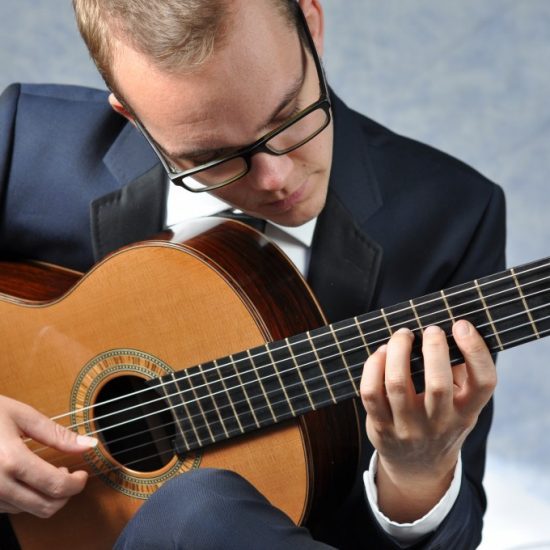 Martin van Hees (Szeged International Guitar Festival)
Martin van Hees (Groningen, 1990) is, according to his professor Zoran Dukic, a musician with 'outstanding musical expression'. Martin graduated in 2014 cum laude for his Masters at The Royal Conservatory of The Hague with a distinction for his contribution to contemporary music. During his studies Martin was chosen to be the soloist at the Atheneum Chamber Orchestra with the Concierto d'Aranjuez by J. Rogrigo.
Martin takes actively part in several projects concerning contemporary music, chamber music and collaboration with dancers. He received several prizes at national and international guitar competitions amongst: 1st prize Lions National Guitar Competition (2009), 1st prize Patras International Guitar Competition (2015), 2nd prize Northern Guitar Awards (2005), 3rd prize Kolkata International Guitar Festival and Competition (2014).
In the period October-December 2014 Martin visited India with 'The Classical Guitar Project' where he gave a series of concerts, workshops and masterclasses.  In April 2016 he gave a tour in Greece with highlights the performances at the Patras Guitar Festival and Crete Guitar Festival.
Furthermore Martin performed in Thailand, Italy, Belgium, Switserland and The Netherlands. During participation in the Ligeti Academy, Martin performed in The Royal Concertgebouw in Amsterdam. In 2015 he collaborated with contemporary composers amongst one, Louis Andriessen. He is part of the contemporary music group Kluster5 with whom he performed on national television (Vrije Geluiden) and radio (4). Besides that Martin has a duo with violinist Floor LeCoultre. In 2017 he tours with the theatre production 'Carrousel' in Netherlands and Belgium.
The release of his first CD: 'Cadence', took place in February 2016. This CD focuses on the music of Western European- and South American composers.Martin is currently exploring the field of composing by writing and arranging for solo guitar and for the ensemble Kluster5.
Martin van Hees is the EuroStrings Scholarship Winner for the Szeged International Guitar Festival.