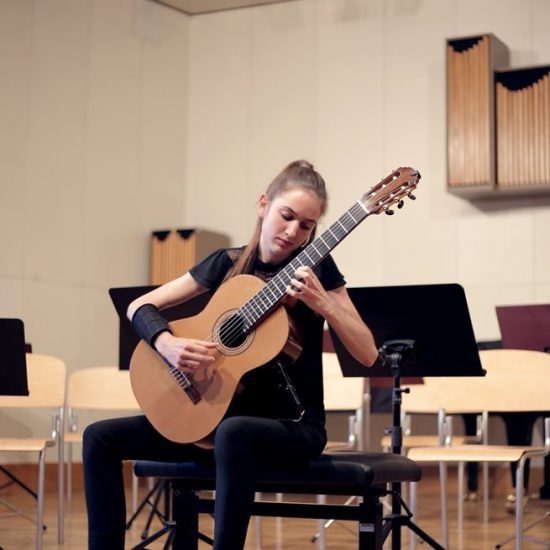 Maja Kralj (Uppsala Festival)
Maja Kralj was born on the 1st of May 1999. She started playing guitar at the age of seven at the Music school Sežana. Her teacher at that time was Nataša Črnugelj. After finishing eight years of elementary music school in September 2014, he continued her education at the Conservatory for music and Ballet in Ljubljana. Her professor for four years there was Anton Črnugelj. In May 2018 Maja has completed the entrance exam and was accepted to Academy of Music Ljubljana in the class of prof. Andrej Grafenauer.
Her most important achievements are:
2nd Zagreb guitar festival (2016), 2nd prize, 2nd place
3rd Zagreb guitar festival (2017), 1st prize Winner
TEMSIG, National competition for young musicians of Republic Slovenia 2017, 2nd prize, 2nd place (in guitar duo with Tine Črnugelj)
She has participated in many masterclasses with well known guitarists: Judicaël Perroy, Andrea De Vitis, Paolo Pegoraro, Alvaro Pierri, Brian Head, Xuefei Yang, Margarita Escarpa, Mak Grgić, Xhevdet Sahatxhija, Nejc Kuhar, Gabriel Bianco, Stephani Jones, Jure Cerkovnik, Anders Miolin, Costas Cotsiolis, Olaf van Gonnisen, Laura Young.