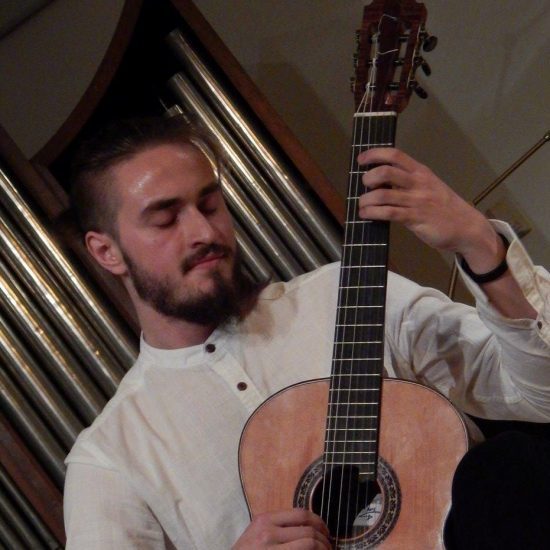 Giorgos Lyratzis (Sofia GuitArt Festival)
Giorgos Lyratzis (1998) acquired secondary education in 2016 in the  High music school of Komotini, Greece. Guitar teachers at the National Music School: Yorgos Yurcidis, Tassos Liratzis.
Participations in the period from 2014 to 2017:
Participation in the guitar festival "Trakia" in the city of Komotini, a master class with Dimitris Semertzidis and participation in a competition in the category up to 17 years. Participated in concerts in the music school.
Higher Education: Academy of Music, Dance and Fine Arts, Plovdiv, Bulgaria.
During the school years 2016-2017 at the preparatory (language) course and in 2017, he was admitted as a student at the Academy. Specialty: Performing Arts-Classical Guitar. Teacher: Assoc. prof. Ph.D. Stella Miteva-Dinkova.
In 2017 he participated in a master class with Maro Razi (at the Thracia guitar festival in the town of Komotini).
During 2018. he participated with Guitar ensemble "Akademika", Plovdiv in the competition of the Thrace international guitar festival in Komotini, Greece and won first prize.
Other participations during 2018.:
Participation in the master class with Pavel Ralev.
Participation in master classes with Michalis Sourvinos and Stelos Golgaris.
Participation in the competition of Thrace International guitar festival in Komotini, Greece and won third prize in the category without age restrictions (the first prize was not awarded)
Participation in Art festival and competition Borovetz, 2018 and won First prize
Participation in a master class with Niklas Johansen (Denmark) in Sofia, Bulgaria
Participation in a master class with Jeremy Jouve (France) in Veliko Tarnovo, Bulgaria
Participation in the International Summer Art Academy "The Fire of Orpheus" in Razlog, Bulgaria and master classes with George Vassilev (Switzerland)
Giorgos Lyratzis is the EuroStrings Scholarship Winner for the Sofia GuitArt Festival.