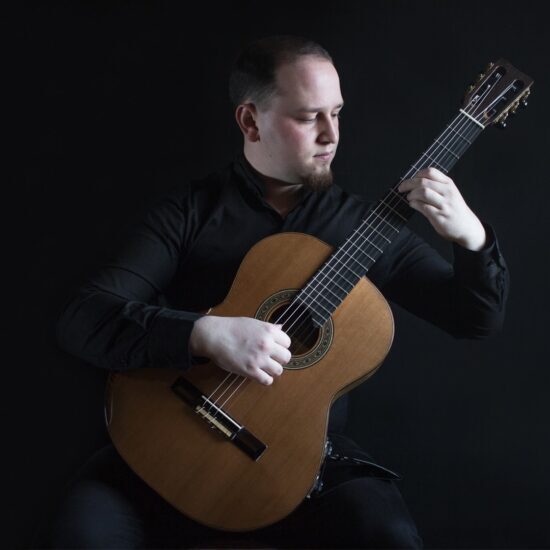 Florian Babțan-Varga (Szeged International Guitar Festival)
Florian Babțan-Varga started his musical studies at the "Sigismund Toduță" Music School in Cluj-Napoca and began playing the guitar at the age of 13 under the guidance of teacher Laura Platon, then Ludovic Bíró and George Muntean. Over the years, he attended masterclasses of Judicael Perroy, Gabriel Bianco, Costas Cotsiolis, Giampaolo Bandini, Anton Baranov, Csáki András, Rovshan Mamedkuliev, Florian Larousse, Alexis Muzurakis, Susana Prieto and many more. Florian is actively attending guitar festivals and competitions in Romania and Europe. His latest achievement is the First Prize at the Transylvania International Guitar Festival chamber music competition with the Intono string quartet.
He is currently studying for his master's degree in classical guitar at the "Gheorghe Dima" Music Academy in Cluj-Napoca under the guidance of Beke István Ferenc and Constantin Andrei. Florian has a strong affinity with modern classical music and he often works together with local composers to expand the classical guitar repertoire.
He also enjoys playing acoustic guitar, especially modern finger style music inspired by great musicians like Andy Mckee or Jon Gomm. Florian teaches guitar at the Instrumentor Association in Cluj-Napoca, organizes guitar festivals with the Harmonia Cordis Association and plays concerts all over Romania in many different formations. Besides the guitar, Florian also plays the mandolin and bouzouki, and his services are often requested by the Romanian National Opera of Cluj Napoca, the Hungarian National Opera of Cluj-Napoca and by the Transylvania State Philharmonic Orchestra for various performances.
His work is suported by the Collegium Talentum 2019/2020 Programme of Hungary and by the Communitas Alapítvány Foundation together with the Democratic Alliance of Hungarians (RMDSZ) in Romania. Florian plays a concert classical guitar made by greek luthier Vasilis Sigletos, he uses AER Music – The Acoustic People Amps and Savarez Strings.