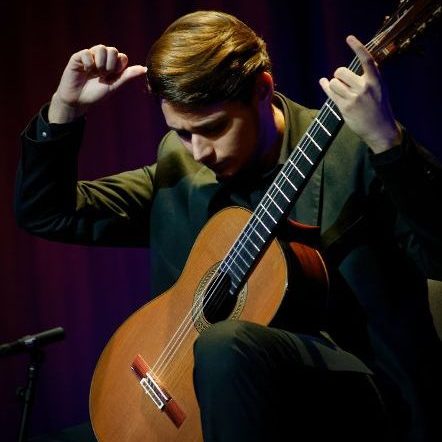 Elia Portarena (Guimarães International Guitar Festival)
Elia Portarena was born in Orvieto (Italy) on 8th May 2000. He began studying classical guitar at the age of 7 with his father. At the age of 13, he was admitted at Institute Giulio Briccialdi in Terni where he studied with Masters Roberto Fabbri, Emanuele Segre and Emiliano Castiglioni.
In June 2019 he finished his studies at Angeloni High School Music with top marks and in October he took his degree at Institute Briccialdi with top marks (110 cum laude and mention). Since 2015 he has been specializing with Master Aniello Desiderio, a worldwide famous music teacher and concert artist, at "Stefano Strata" Academy in Pisa. He has been also a student of Master Andrea De Vitis, teacher and concert artist.
In August 2016 he opened the Los Angeles Guitar Quartet Concert in Brno (Czech Republic) at Brno Guitar Festival. In May 2017 he won the scholarship in memory of guitarist Roberto Borghini at "Stefano Strata" Academy and in July 2018 in the same academy, Master Paolo Pegoraro, a teacher at University for Music and Performing Arts in Graz, gave him a scholarship for being the best student in his masterclass. He was shortlisted by the Scientific Committee of International Competition Michele Pittaluga" in Alessandria and in September 2017 he made his debut in the 50th International Guitar Convention in Alessandria.
Furthermore, he has taken part at masterclasses with Masters Marco Tamayo, Leo Brouwer, Marcin Dylla, Frédéric Zigante, Pavel Staidl, Carlo Marchione, Lucio Matarazzo, Giovanni Podera, Giulio Tampalini, Arturo Tallini, Paolo Pegoraro, Matthew McAllister, Paulo Bellinati, Vladislav Blaha, Pablo De La Cruz, Marco Pereira, Gabriel Bianco, Reinbert Evers, Sung Jin Kim, Eduardo Isaac, Williams Jenks, Gabriel Guillem.
Elia has been awarded in more than 40 international and national competitions in Italy and abroad.