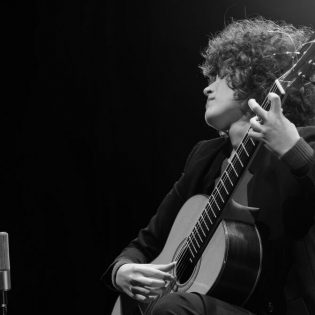 Cristina Galietto is the winner of the 4th EuroStrings Guitar Competition that was held in Petrer as a part of the IGF Jose Tomas Villa de Petrer  festival. She received a cash prize of 8000 € and will play a concert at EuroStrings partner festivals.
Cristina is a 20-year-old classical guitarist from Naples in Italy, whose guitar playing has taken her to many countries in Europe, where she has given concerts, participated in masterclasses with artists such as Aniello Desiderio and Carlo Marchione. Among the numerous international competitions that she has won, the highlights include winning First Prizes at: Rago International Guitar Competition in Stuttgart, International Competition for Young Guitarists 'Andrés Segovia' in Monheim am Rhein and the Uppsala International Guitar Festival competition in Sweden. She began her musical studies at the age of seven with his father, a guitar teacher and then attended the Music High School 'Margherita di Savoia' in Naples studying with Enzo Amat. She completed her studies at the Conservatory of Music 'San Pietro a Majella' of Naples and the Conservatory of Music 'Domenico Cimarosa' in Avellino in the class of Lucio Matarazzo with honours and a special mention and is currently studying with Paolo Pegoraro and Lukasz Kuropaczewski at the Universität für Musik und darstellende Kunst, in Graz.
Her new album Avant l'Aube, released at the end of 2020 (Timespan recordings), features music by composers such as Joaquín Rodrigo, Domenico Scarlatti and Alexis Rago, all of whom are representative of an intimate, delicate and passionate musical feel – characteristics that stand out in her playing and to which her audience are drawn.