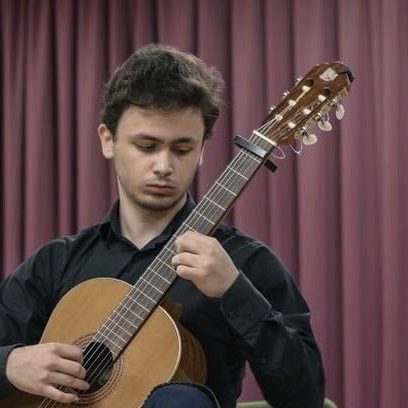 Álex Pernas (IGF José Tomas Villa de Petrer)
Álex  Pernas, born in 1999, started playing the guitar at the age of 13 with flamenco and classical professor Alejandro Bernáldez, His rising passion on music make him enroll in the Manuel de Falla Conservatory of Madrid, where he studies with Yinay de León and Victor Manuel Casero in addition to courses on composition with professor Héctor Oliva, getting to release some pieces.
He has performed solo recitals, monographics on Spanish music, in chamber music projects, as a soloist with string orchestra as well as a part of guitar ensembles, and he is currently developing a stable guitar duo project. He also maintains a regular teaching activity and is working on several arrangement projects for solo as for guitar duo, willing to expand the repertoire possibilities and to take advantage of the particularities of the instrument. Álex is currently studying at the Conservatori Superior de les Illes Balears with Pedro Mateo, while he also carry on studies on social sciences in the Carlos III University of Madrid. Additionally, he receives advice in the masterclasses of renowned guitarists like Anders Clemens, Marco Socías, Zoran Dukic, Margarita Escarpa, Miguel Trápaga, Aniello Desiderio or Carlo Marchione. He regularly attends national courses and festivals, being awarded in competitions José Tomás-Villa de Petrer (online and on-site) and Ciudad de Náquera.
Between its main musical concerns are the repertoire of the XXth and XXIst centuries (the established as the more experimental languages), the instruments of the renaissance and baroque, flamenco guitar, composition and the development of a complex approach and understanding to the musical thinking and language. His work is supported by various entities as the prestigious scholarship of the Sociedad de Artistas Intérpretes o Ejecutantes de España (AIE).